Black Lives Matter Pushes Japan to Confront Racism
To many Japanese, racism towards black people has long been considered something that happens in the US or Europe, not at home.
But when the death of George Floyd in the US sparked a wave of protests demanding that Black Lives Matter, people in Japan joined in too.
The protests and marches in major cities pushed a debate about racism in the country, and whether enough was being done to confront and change things.
'Paper cuts of racism'
In June, public broadcaster NHK aired a segment to explain to Japanese audiences what was happening in the US, with the protests over George Floyd's death.
The report, in a news show aimed at younger audiences, featured an animated video depicting the protesters as grotesque stereotypes, deeply steeped in racist imagery: caricatures with exaggerated muscles and angry faces, and with looters in the background. 
The reaction was largely negative - the US embassy called the segment "offensive and insensitive".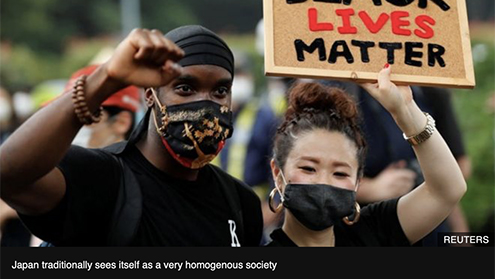 One particularly vocal critic was Baye McNeil, an African-American teacher, author, columnist and long-time Japan resident. 
He tweeted that it was an "offensive racist commentary" and it was time for Japan to stop the "lame excuses" on handling of black issues. 
NHK later apologised, and following the widespread attention Mr McNeil's articles received, invited him in to discuss the problem.
He soon found himself giving a talk to the entire NHK staff, which he said was an "extremely interesting" experience. 
"There were a lot of great questions that showed that a lot of people did not know there were problems with blackface or white washing. It was really important that someone came in and was able to explain it."
-Reprinted from the BBC News  https://www.bbc.com/news/world-asia-53428863